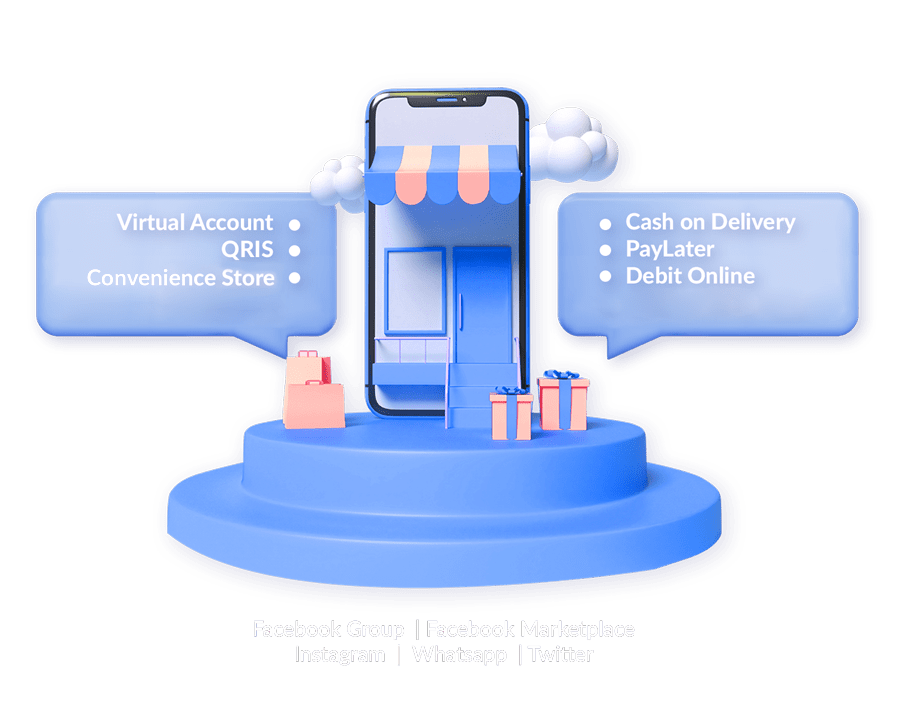 Social Media Payment Link
Transactions on Social Media are getting better!
Login & activate the Payment Link with payment channel facilities Virtual Account, COD, Convenience Store (Indomaret & Alfamart), QRIS (Banks that have QR Code, OVO, GoPay, LinkAja, Dana, Shopeepay, Jenius), Online Debit, and Installments Without Credit Card.
Activate Now!
How to Setup & Facebook Booster
Find out how to easily create payment links
Login at iPaymu.com


Click the service menu on the iPaymu dashboard

Activate the Payment Link Service first, click "Activate"

Upload your TIN, tick "Terms and Conditions", then click "Process"

The service will be active after your payment link service is activated

After the Payment Link Service is active, click "Create Link"

Click "Create Payment Link"

Fill in product details and upload product photos

Single Product: Create a payment link for only one product, it can also be used for invoicing.
Multi Product: Create payment links for products with more than one quantity.

Check "COD Payment" if you want to make this transaction into COD (Cash On Delivery), Fill in the Postal Code for Collection and Complete Address for Collection.

Click CONTINUE
Share the Payment Link that has been successfully made to your Customer

Steps to sell on Facebook Marketplace :
Search Facebook.com – click Marketplace.
Click "Sell Something", and then input the item you want to sell.
Enter an appropriate title for your listing – price, location, category and description.
Don't forget to copy and paste the product payment link that you have setup on the website iPaymu.com
Upload your photo by clicking "+10 Photos"
Now, you can post. If "post" is grayed out, check again to make sure you've filled everything in.
Make sure your product prices are competitive.
The most important part of selling your product is the photo section. To sell successfully on Facebook Marketplace, make sure you provide a clear background photo so shoppers can view your product without distraction.
Save an interesting profile.
One of the great things about Facebook Marketplace is that it has a direct link to the seller's Facebook profile. This means that you have direct access to your seller and guaranteed authenticity and credibility of the sale, the payment link will add to the trust of the buyer.
Know how to make a deal.
Frequently Asked Questions
Frequently searched questions about the iPaymu Link Payment service
Services that facilitate iPaymu merchants to receive payments from buyers through payment links. This service is specifically for merchants who have difficulty integrating (without coding) on the Website / Application / Online store.
With iPaymu Payment Link you can receive payments from various channels, namely: Virtual Account, COD, Convenience Store (Indomaret & Alfamart), QRIS (Banks that have QR Code, OVO, GoPay, LinkAja, Dana, Shopeepay, Jenius), Online Debit, and Installments Without Credit Cards.
iPaymu Payment link is automatically secured with Escrow and makes your buyers more trusting.
Make sure your iPaymu account is verified, if not, please verify on your iPaymu dashboard https://ipaymu.com/id/faq-account-and-verification/
Login to your iPaymu account https://my.ipaymu.com
Activate the Payment Link Service on your iPaymu dashboard.
- Click the "Service Configuration" menu, select Social Media Payment Link.
- Upload your NPWP.
- Click Process and Activate.
The payment link can only be used for 1x successful transaction.
The payment link has an expired period.
For fee is per successful transaction of IDR 1,000 (one thousand rupiah).
The verification process is a maximum of 2 working days. (Excluding Saturdays, Sundays, and Public Holidays).