Sudah memiliki akun iPaymu?
Peer-to-peer payment, Create, Share & Get Paid. Speed up the payment process without a website
Social Media & Messenger Sales Booster
Create, Share & Get Paid
---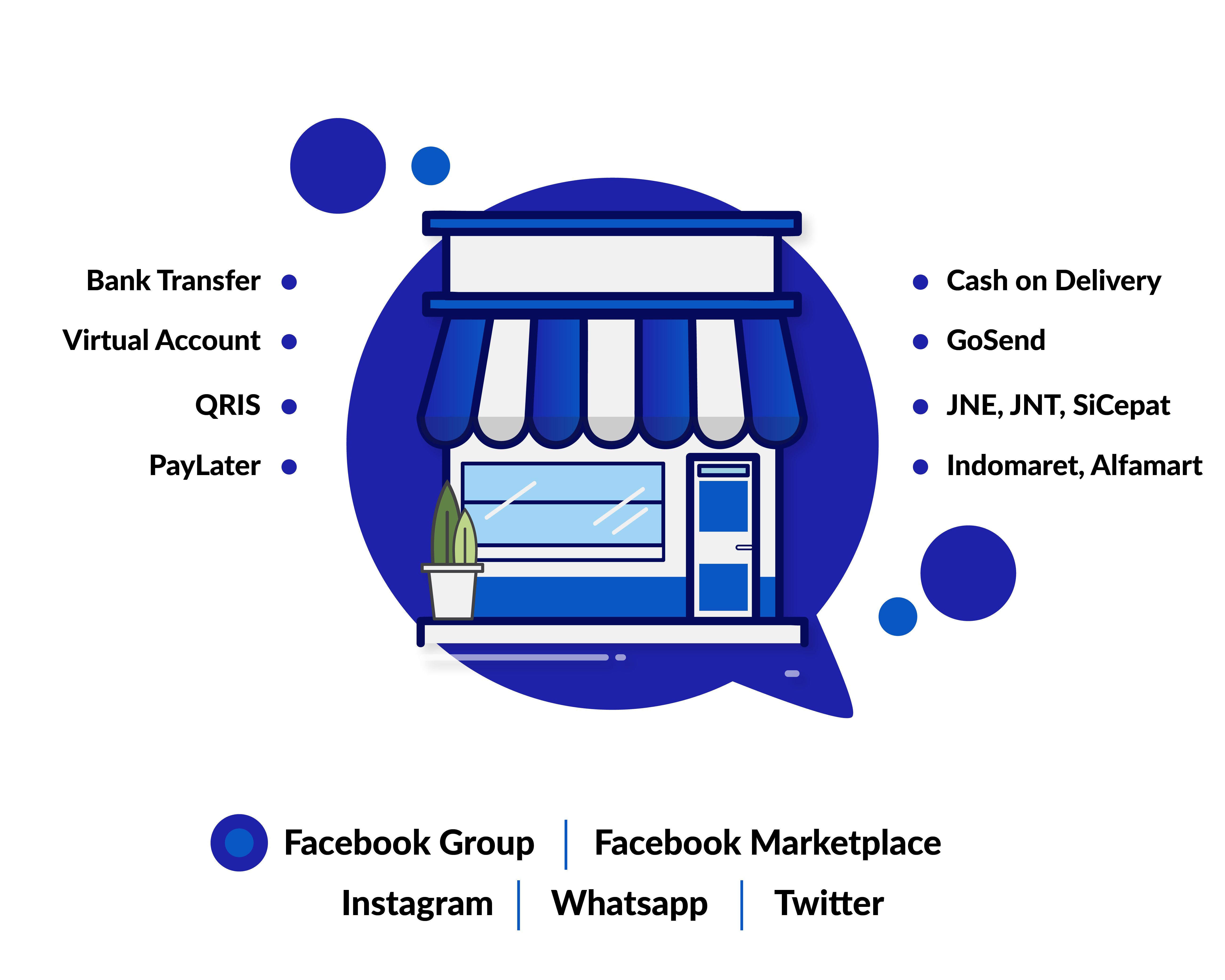 Transactions on Social Media are more stable
You will get many close deals by transacting on social media, it's easy for your buyers to trade. Setup payment links and share to post your status on Facebook Group, Facebook Marketplace, Instagram, WhatsApp, Twitter and forums.
Login & activate payment links with COD facilities, virtual account payments, Indomaret, Alfamart, installments without credit cards, QRIS (OVO, GoPay, LinkAja, Dana). The faster you receive payments and the easier it is to service, secure transactions with Escrow automatically, make buyers more trustworthy
Feature
Building Trust, Speeding Up Transactions, Easing Services
How to Setup & Facebook Booster
Cari tahu bagaimana membuat link pembayaran dengan mudah
---
Cara Setup Link Pembayaran?

1. Login to iPaymu.com


2. Click the service menu on the iPaymu dashboard

3. Click "CREATE LINK" in the Payment Link feature

4. Click "Create Payment Link"

5. Fill in product details and upload photo product

6. Single Product: Create link payment only one product, can use for invoicing.
Multi Product: Create link payment for many product

7. Check "Payment COD" if you make this transaction to be COD (Cash On Delivery), Fill in the Fetching ZIP Code and Complete Fetching Address.


8. Click CONTINUE

9. Share Link Payment that has been successfully made to your customer

How to Setup Facebook Group Posting Automatic

1. Install the "Viralmu Poster for Facebook" extension in your Google Chrome browser. Get the extension here

2. Register account "Viralmu Poster for Facebook"

3. Open your Facebook, there will be a "Post on Groups" button below the left

4. Complete the Facebook Group URL and the Content you want to post, then click the "Start Posting" button. To post to many Facebook Groups add a (,) comma at the end of the Facebook Group URL

5. Wait for the "Facebook posting is done" popup to appear

6. Your posts will appear on all Facebook Groups that you enter
How to Setup di Facebook Marketplace

Steps to sell on the Facebook Marketplace :

1. Search Facebook.com – klik Marketplace.
2. click "Sell Something", and then input the item you want to sell.
3. Enter an appropriate title for your listing – price, location, category and description.
4. Don't forget that you copy and paste the payment link for the product you have set up on iPaymu.com
5. Upload your photo by clicking"+10 Foto"
6. Now, you can post. If the "posts" are gray, check again to make sure you have filled everything.
7. Make sure the price of your product is competitive.
8. The most important part of selling your product is in the photo section. To successfully sell on the Facebook Marketplace, make sure you provide clear background photos so buyers can see the product without interruption.
9. save an interesting profile.
10. One of the interesting things about Facebook Marketplace is that it has a direct link to the seller's Facebook profile. That is, you have direct access to your seller and are guaranteed the authenticity and credibility of the sale, the payment link will add to the buyer's trust.
11. Know how to deal / deal.